Regular price
Sale price
$499.00
Unit price
per
Sale
Sold out
Connect up to 50 lights to 0-10V interface
Includes enhanced support for dim-to-off lights
500 feet+ wireless range 
IP65 waterproof design; UV resistant
Network up to 500 Universal Dimmers with a Pro Access Point; up to 200 Dimmers with a basic Access Point
For use in North America
1 year warranty
SOFTWARE LICENSE

Includes perpetual access to GrowFlux's basic controls, including scheduling, dimming, and software defined zoning. Advanced features, such as API Access, is available with additional subscription fees. Use of the GrowFlux App is subject to the GrowFlux Terms of Service.
WARRANTY

One year manufacturer Limited Warranty
COMPATIBILITY

Compatible with all 0-10V dimmable grow lights
Sink and source dimming
Dim-to-off
View full details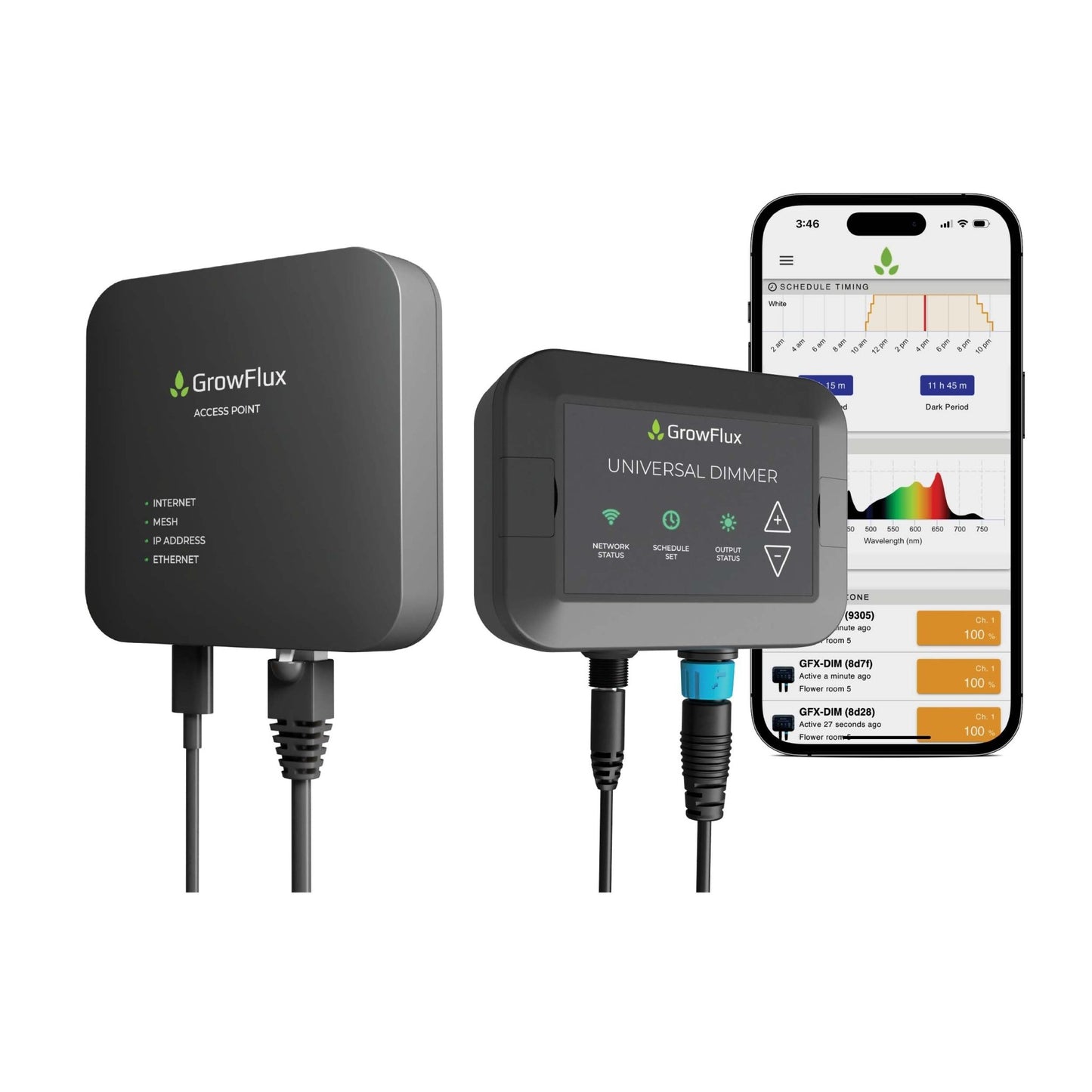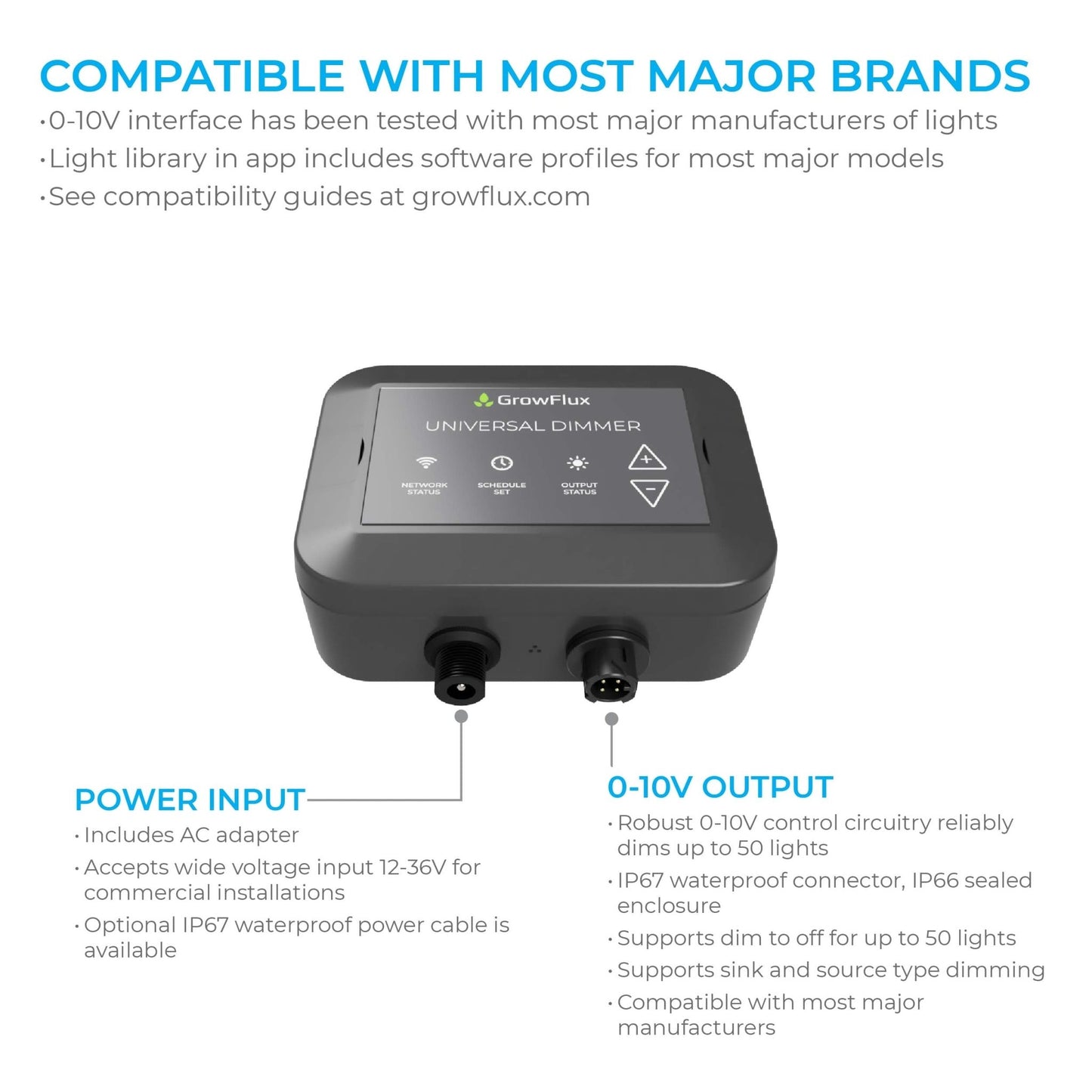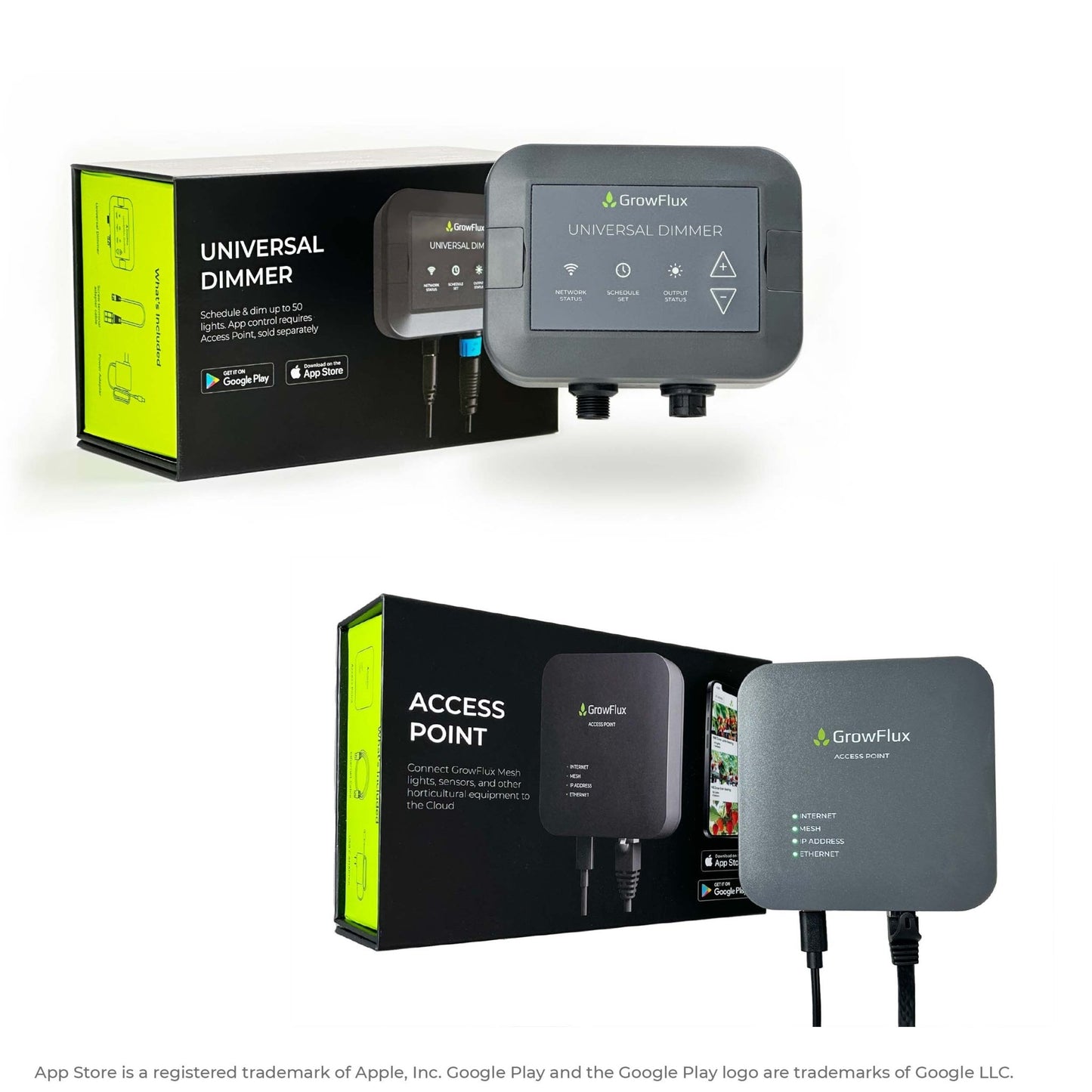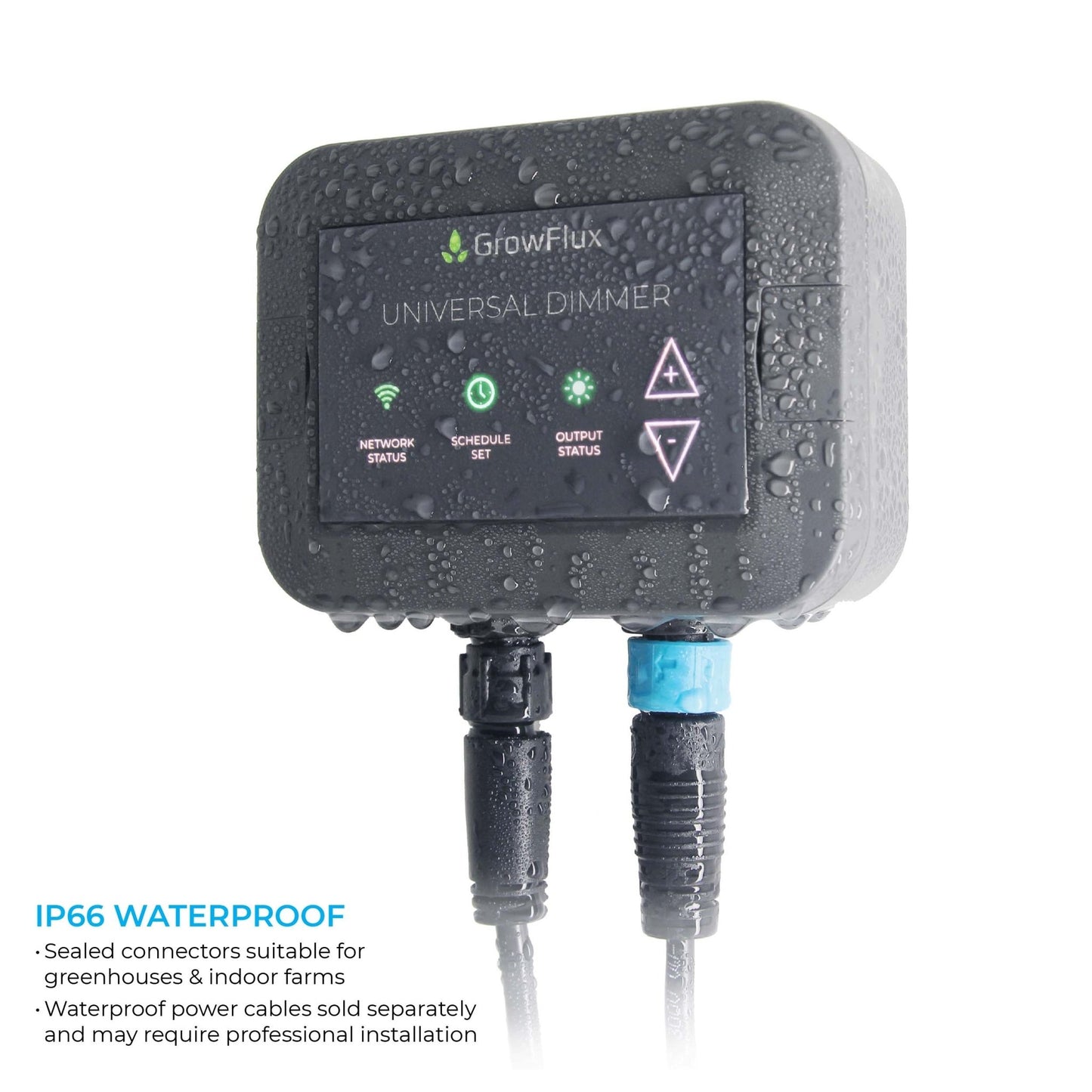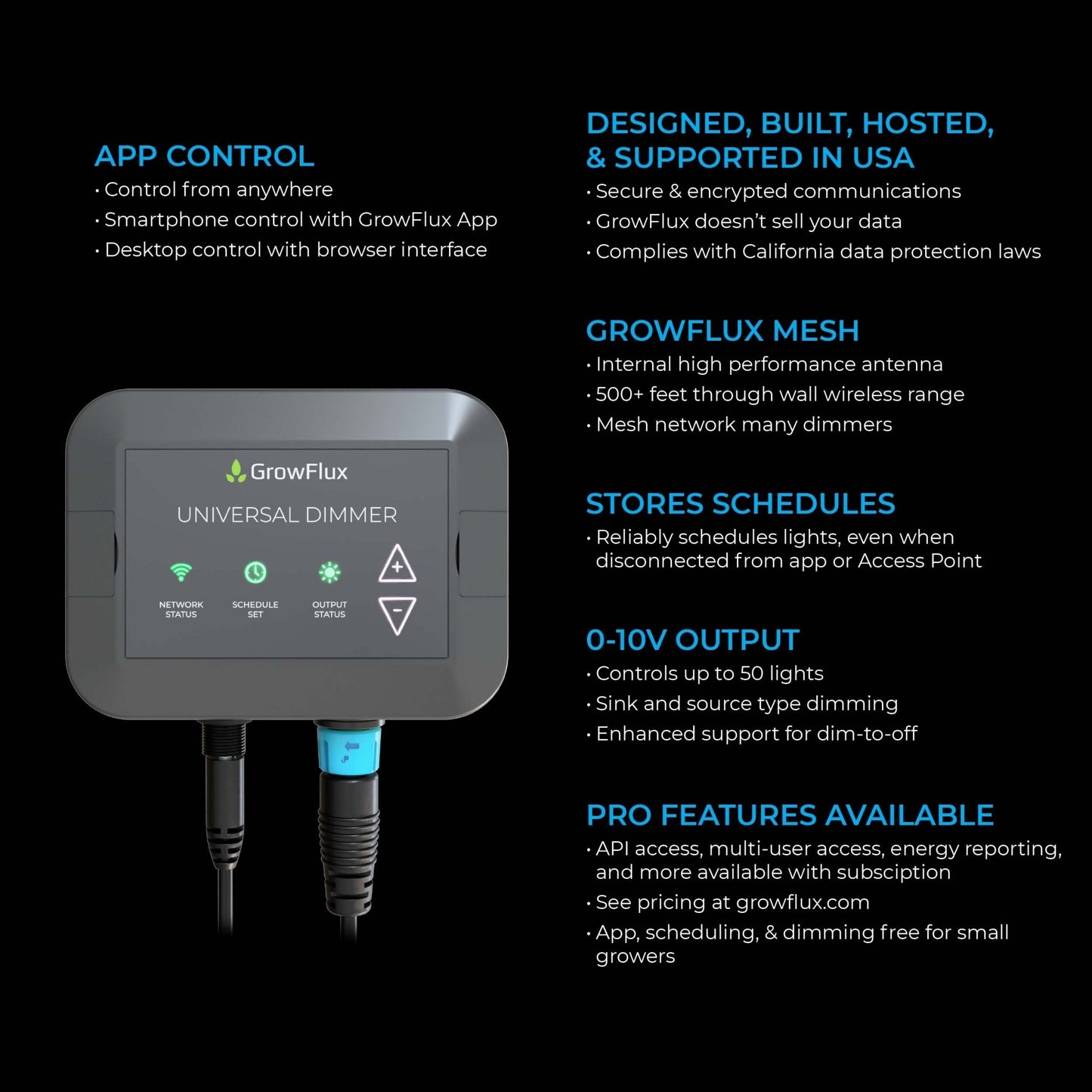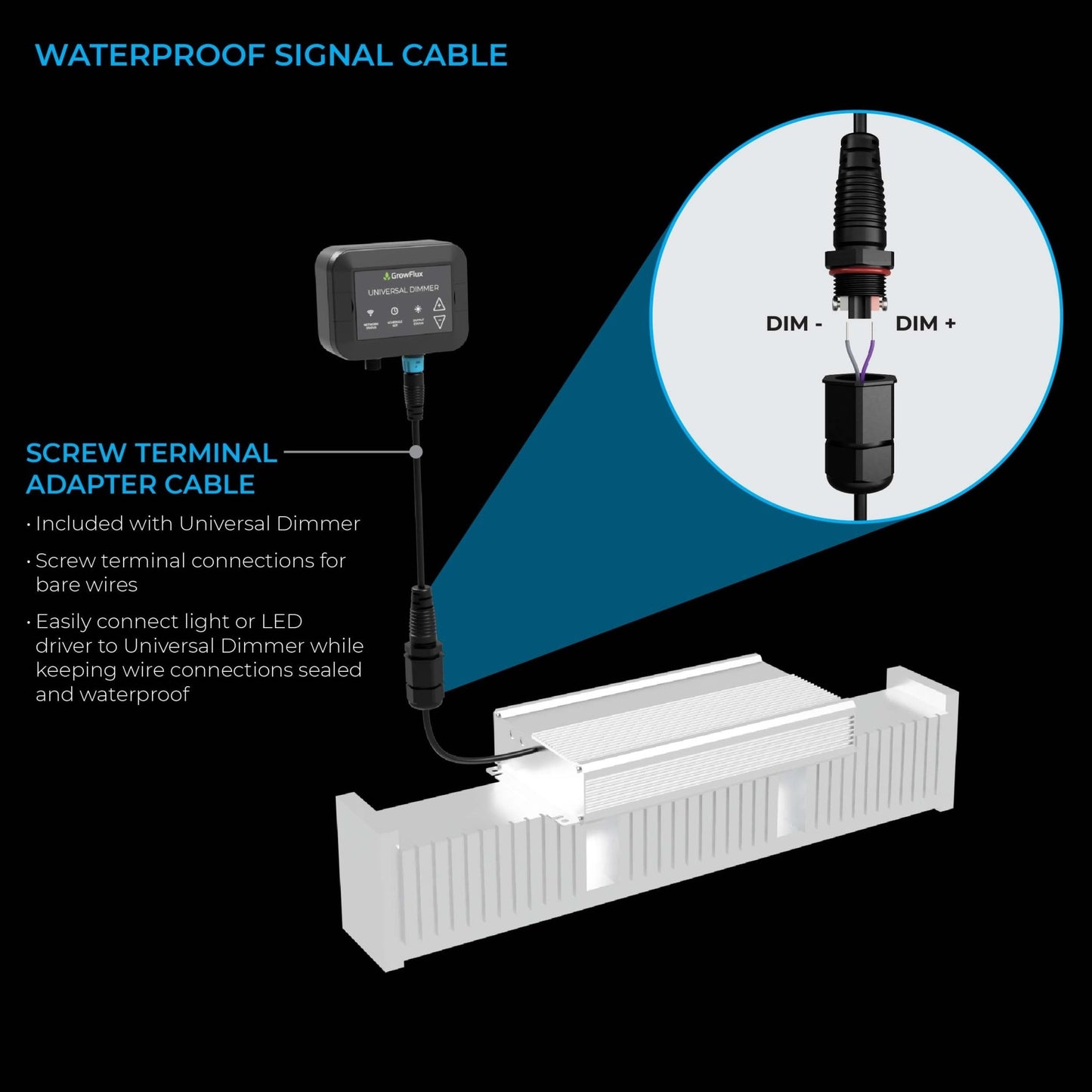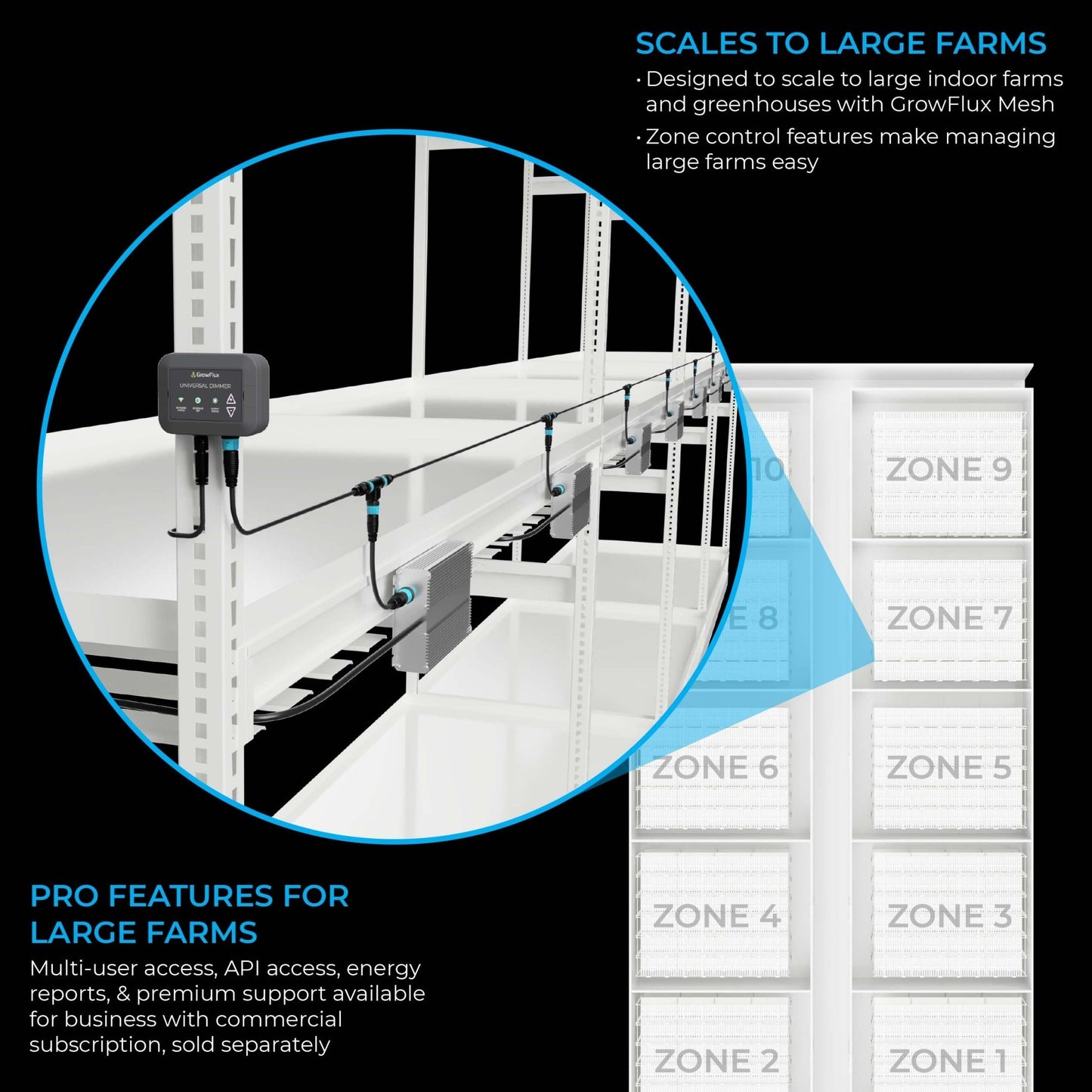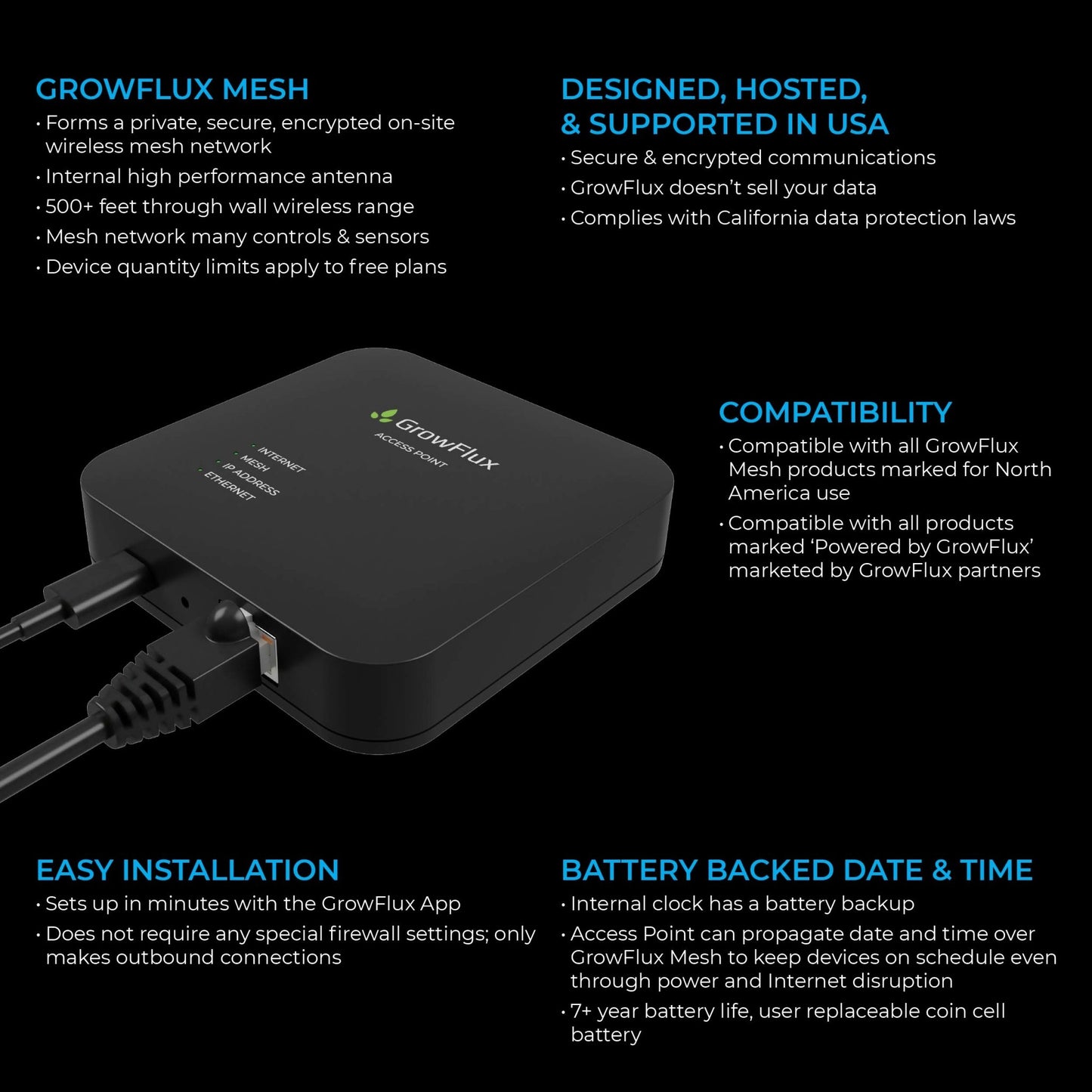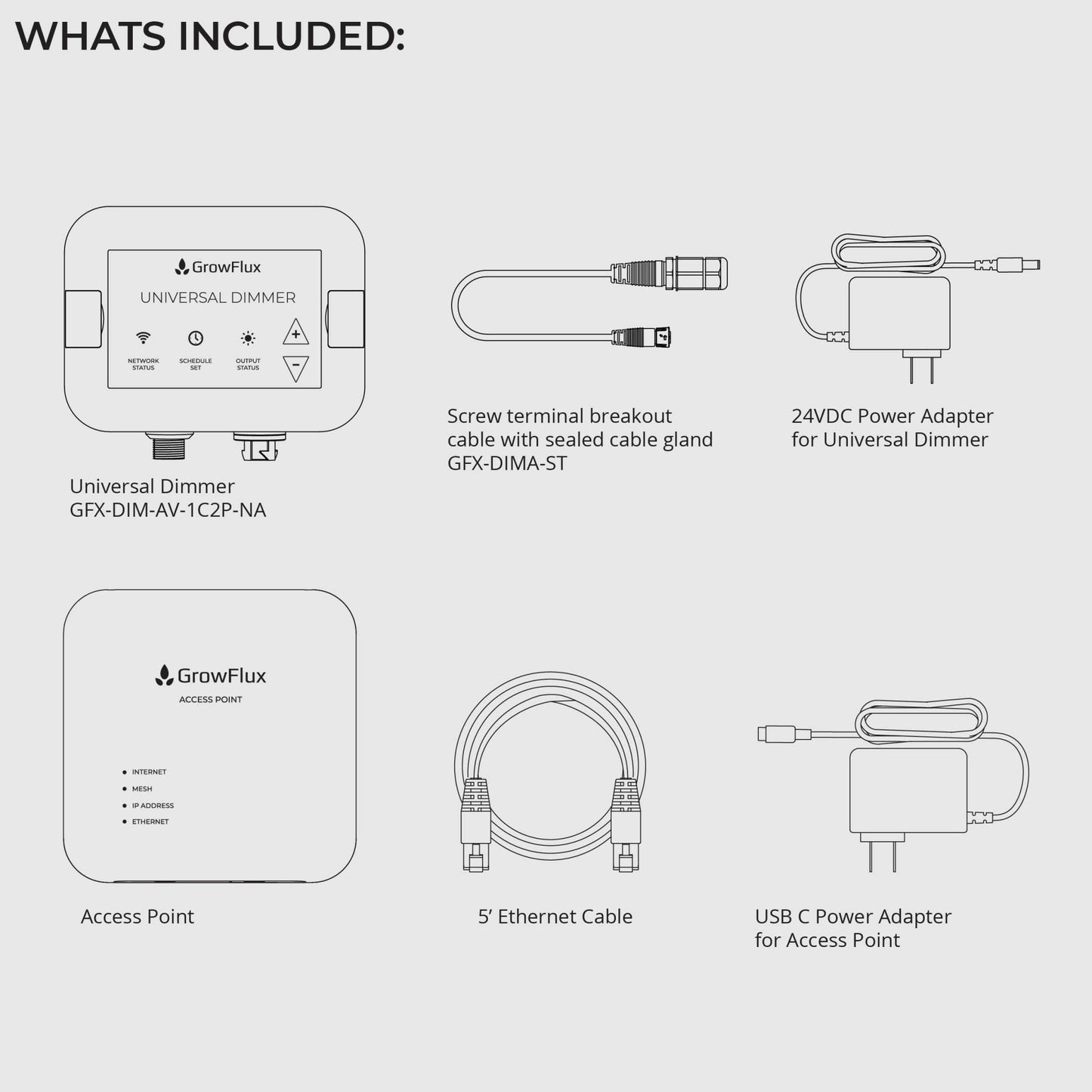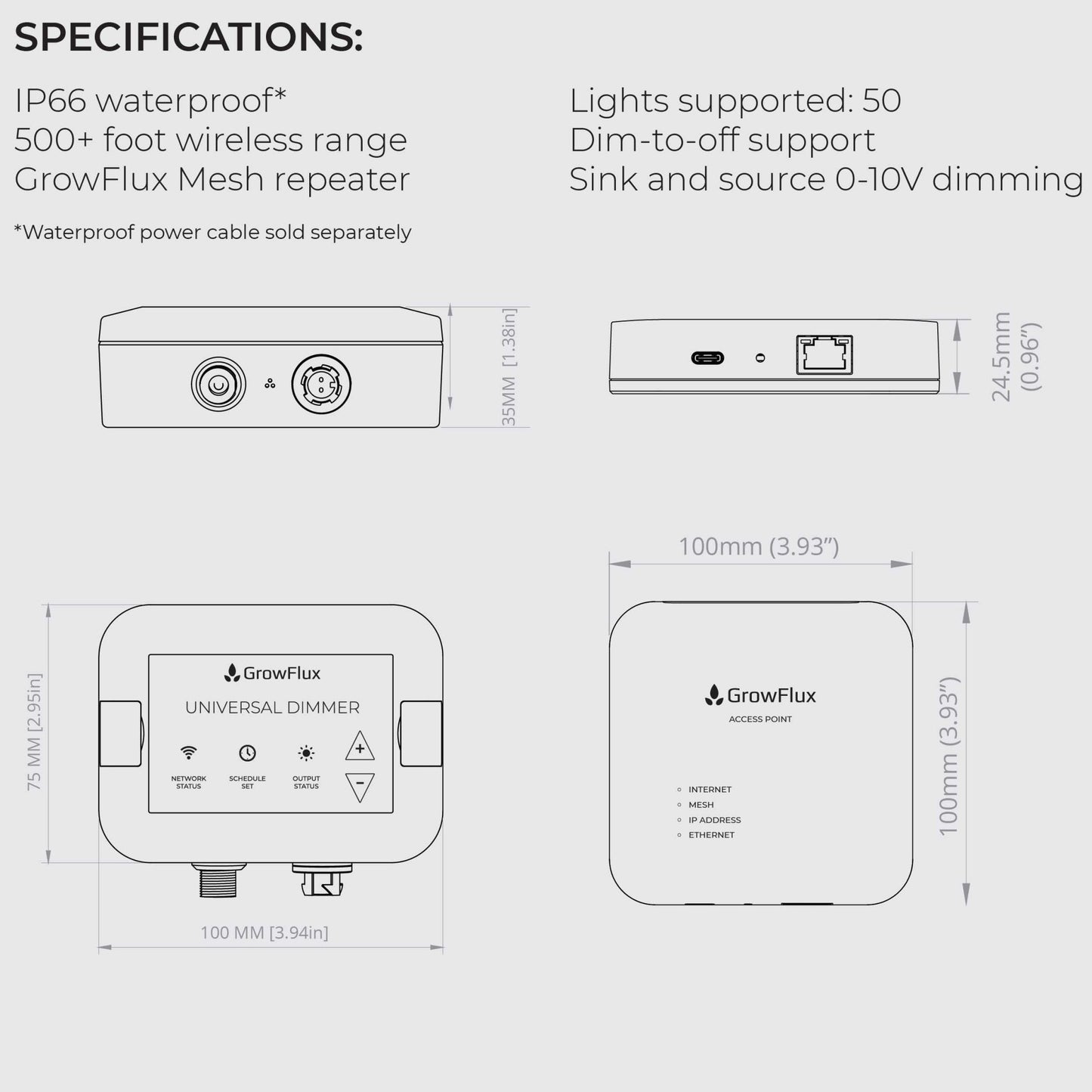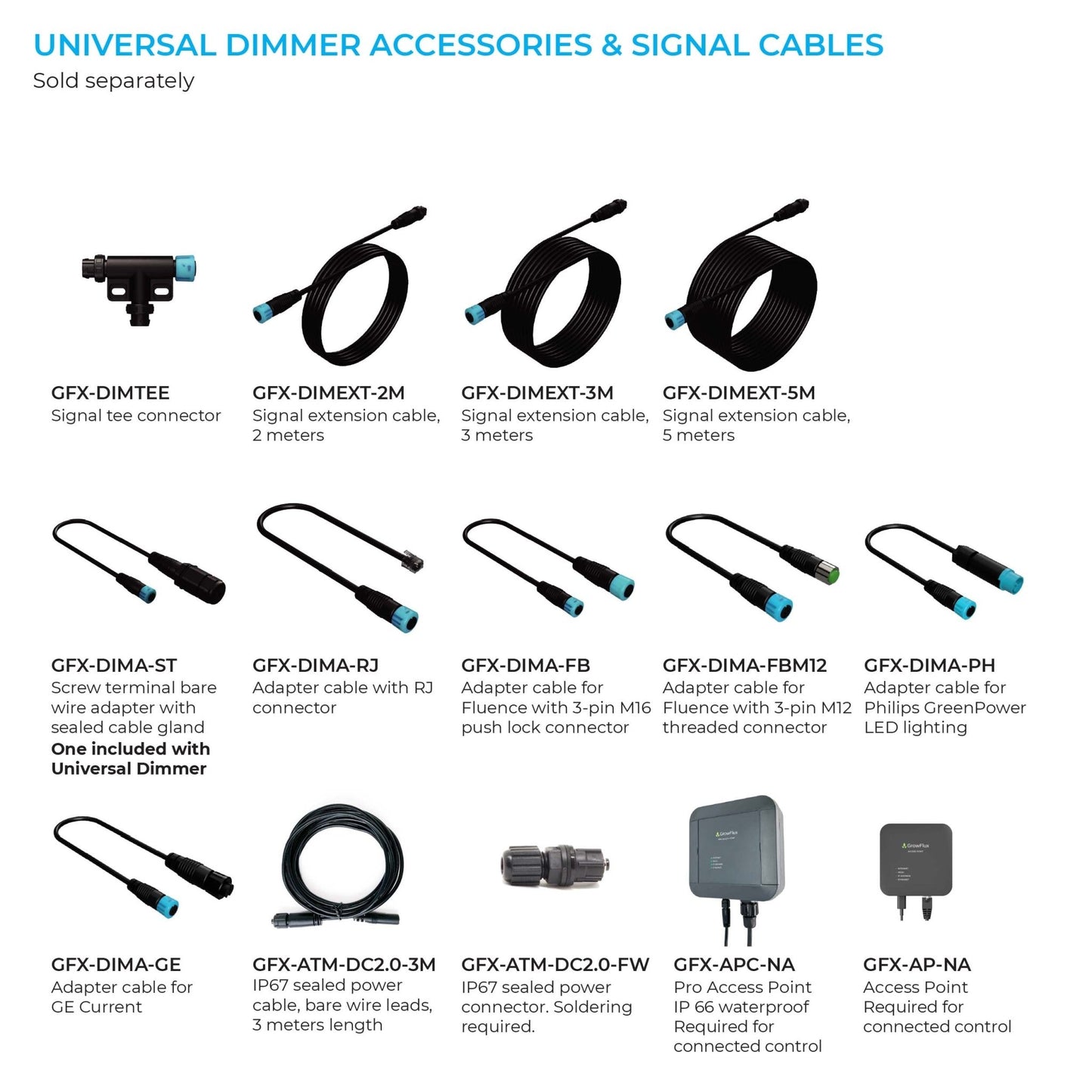 MESH NETWORK UP TO 200 DIMMERS

0-10V DIMMING

CONTROL FROM ANY DEVICE

INDUSTRIAL IOT WIRELESS

IP65 WATERPROOF
FREQUENTLY ASKED QUESTIONS
Is an Access Point required?

No, the Universal Dimmer will function with manual pushbutton dimming without an Access Point. The up / down buttons can dim lights in 20% increments from off to 100%.

For schedule control, app control, remote access, and HPS mode, the Access Point is required.
Is an Internet connection required?

The Universal Dimmer only requires an Internet connection on the associated Access Point for remote management, software updates, changes to schedules, and changes to zone assignment. Once a schedule is saved to a Universal Dimmer, the device will operate on schedule without an Internet connection provided that the Access Point is powered on, since the Access Point contains a battery backed clock to keep devices on schedule.
Can the Universal Dimmer schedule lights?

Yes, detailed schedules can be saved to the Universal Dimmer, and devices will run the schedule on a daily basis until the schedule is either cleared or updated. An Access Point is required for scheduling.
Does the Universal Dimmer integrate with other systems?

The Universal Dimmer can integrate with any control system in two ways:

1. Pair the Universal Dimmer with the 0-10V Transmitter, and control Universal Dimmers with any control system that provides a 0-10V signal. The Universal Dimmer will only store a backup schedule and will primarily receive its control commands from an external controller. Learn more

2. Through an API software integration - see documentation
How many Universal Dimmers can connect to one Access Point?

Up to 200 Universal Dimmers can connect to one Access Point.
What is the wireless range?

The Universal Dimmer is networked with GrowFlux Mesh and is capable of reliable, long range communication. Each Universal Dimmer typically communicates over 500 feet through walls in an indoor environment. Each Universal Dimmer also functions as a GrowFlux Mesh repeater, extending the reach of your GrowFlux Mesh network.

GrowFlux Mesh utilizes sub-GHz frequencies rather than the commonly used 2.4GHz band, allowing GrowFlux Mesh devices to penetrate further and deeper into buildings and concrete structures.

GrowFlux Mesh performs uniquely in large scale indoor cultivation environments with metal walls and concrete floors. Learn more
Can I connect Universal Dimmers and other GrowFlux Mesh devices to the same Access Point?

Yes, any GrowFlux device or GrowFlux Mesh enabled device from our partners can be connected to an Access Point. Large scale facilities with many devices can be managed with ease using digital zoning features in our apps.