Regular price
Sale price
$149.00
Unit price
per
Sale
Sold out
Securely connect your devices to the Cloud with GrowFlux Mesh, allowing for remote control, scheduling, and monitoring horticultural lighting and sensors.
GrowFlux Mesh is an on-site, private, and secure wireless mesh developed for the agriculture industry, and offers long range, high through-wall performance, self healing redundancy, smart range extension, and secure encrypted communications.
Indoor use only
500+ feet range
Includes 5' Ethernet cable and USB C power adapter for North America
SOFTWARE LICENSE

Includes perpetual access to GrowFlux's platform. Use of the GrowFlux App is subject to the GrowFlux Terms of Service.
WARRANTY

One year manufacturer Limited Warranty
COMPATIBILITY

Compatible with all 0-10V dimmable grow lights
Sink and source dimming
Dim-to-off
View full details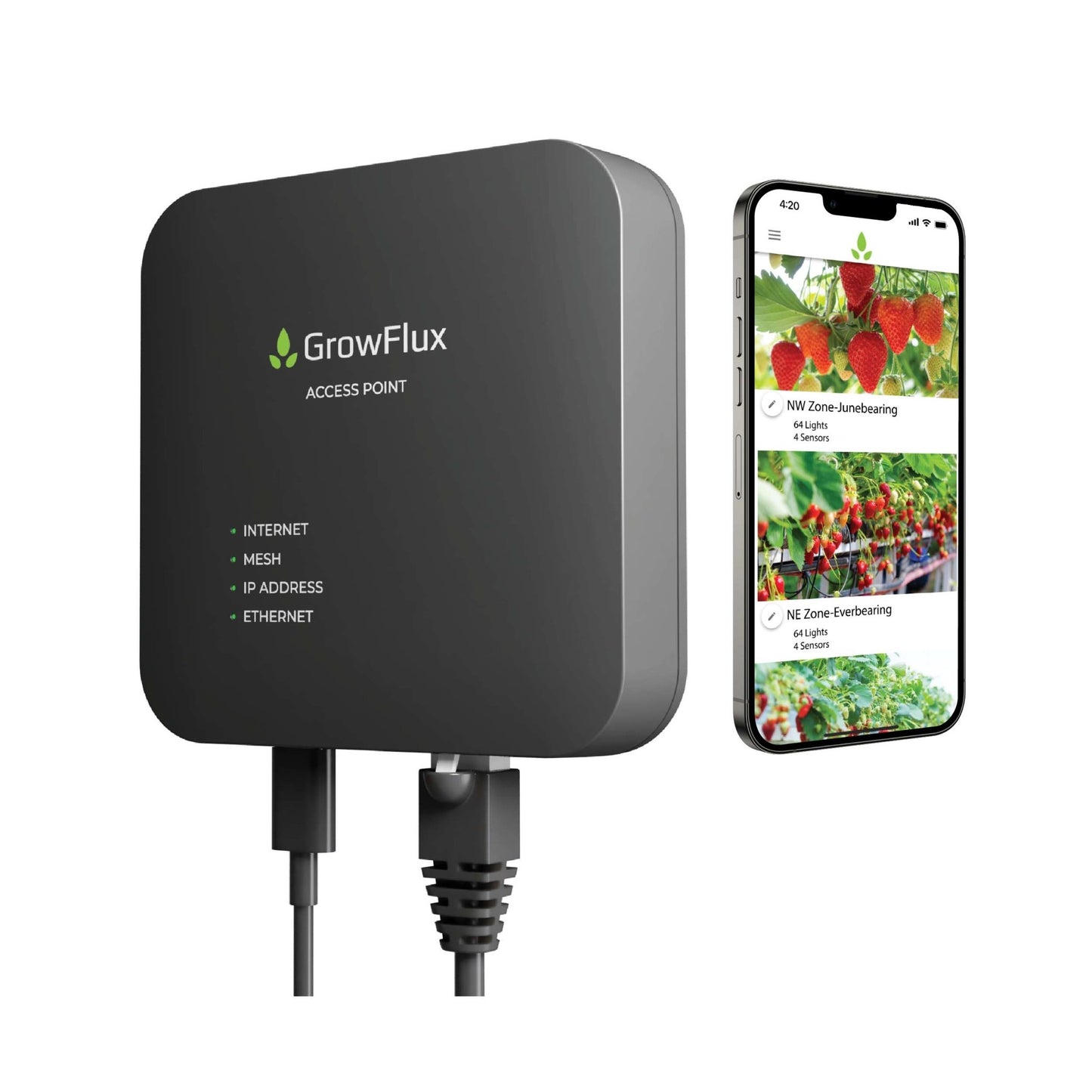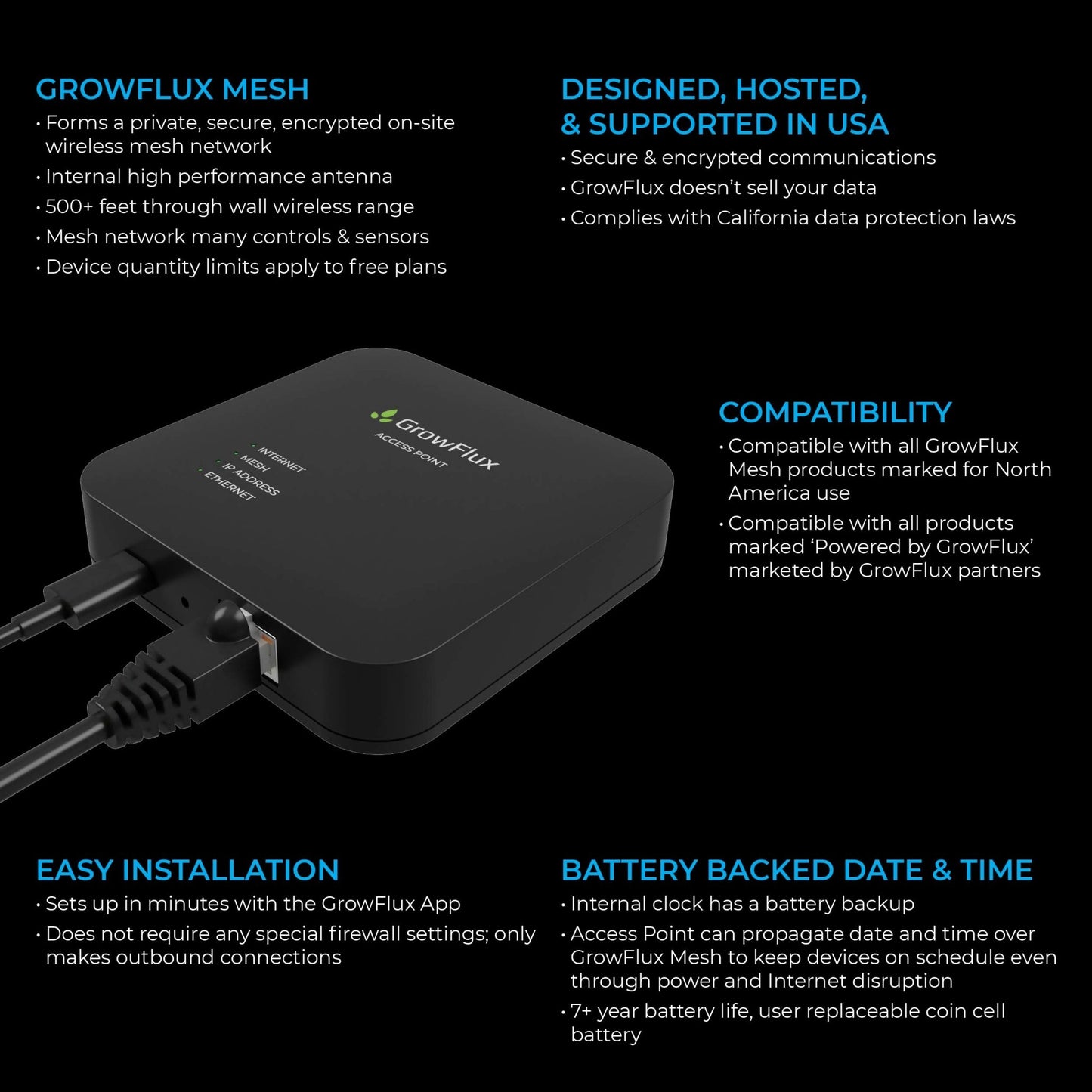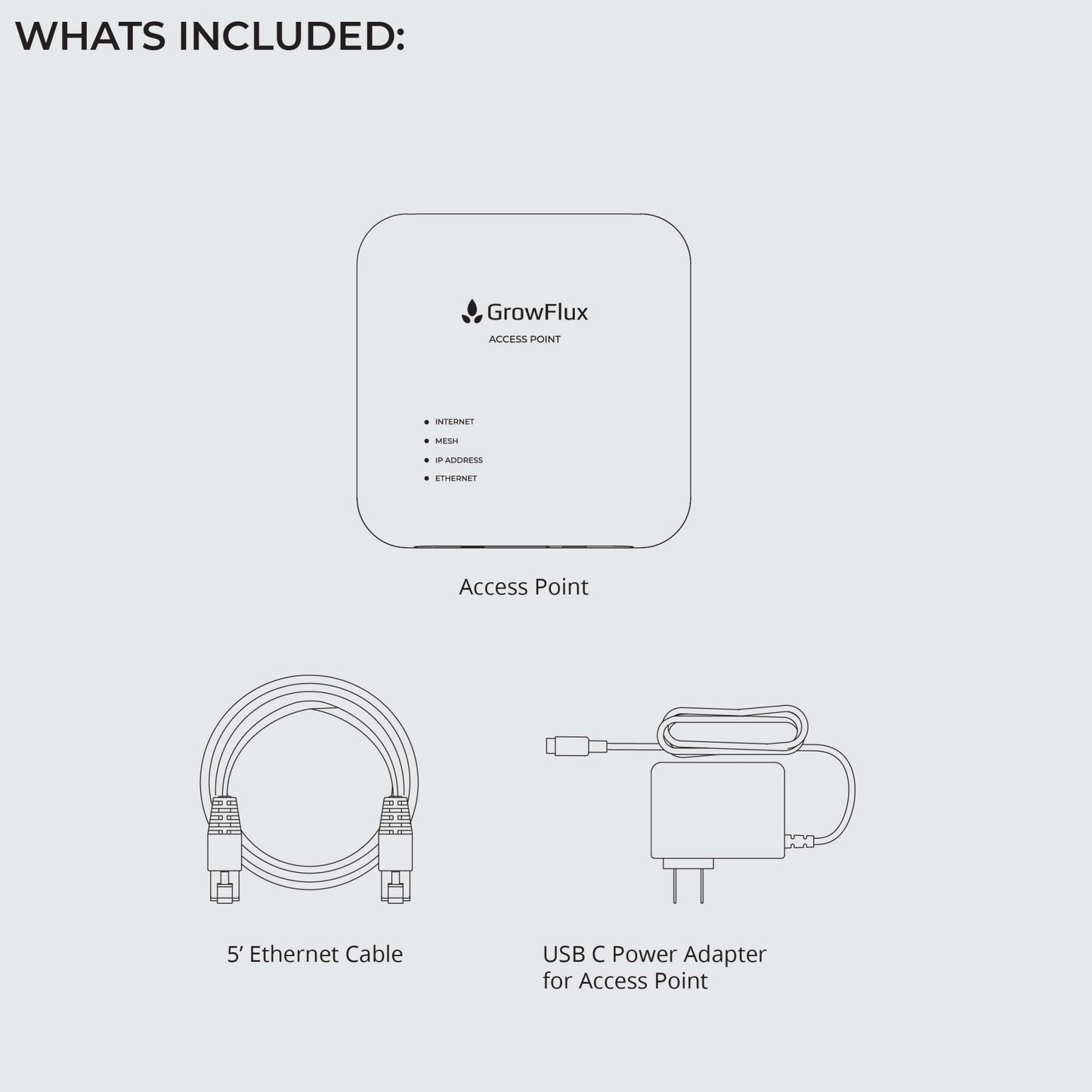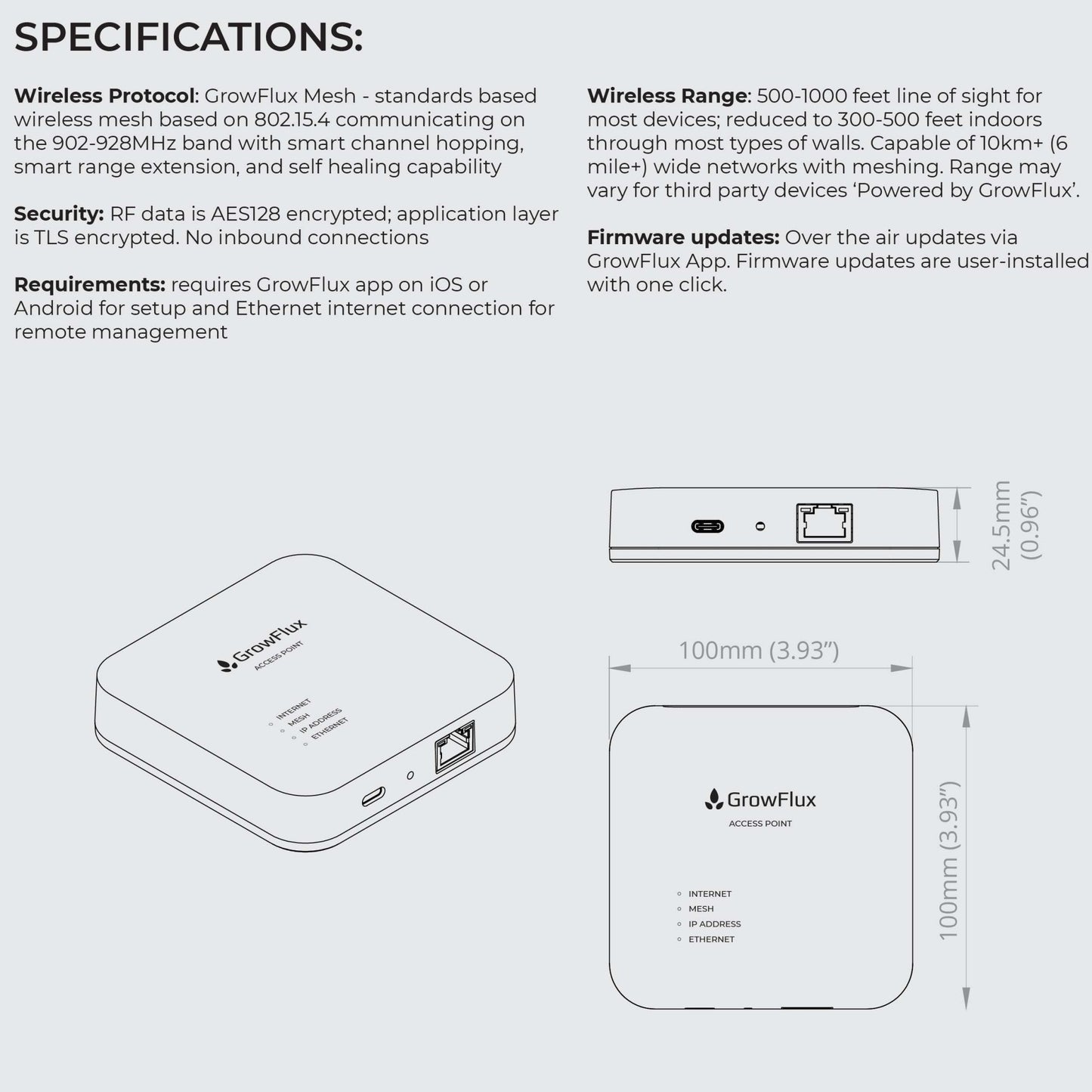 MESH NETWORK UP TO 200 DIMMERS

CONTROL FROM ANY DEVICE

BATTERY BACKUP DATE & TIME

INDUSTRIAL IOT WIRELESS

EASY INSTALLATION

SECURE ENCRYPTED COMMUNICATIONS
FREQUENTLY ASKED QUESTIONS
Is an Internet connection required?

Yes, an Internet connection is required for the following features:

Initial setup of the Access Point
App and API control
Managing devices, including changing schedules and zone assignments
Logging sensor data to the cloud
Remote control of GrowFlux Mesh devices
Remote software updates on the Access Point or other GrowFlux Mesh devices

Once the Access Point is configured, an Internet connection is not required for the following features:

On-site GrowFlux Meshing
Date and time propagation over GrowFlux Mesh for scheduled devices
Local control features such as Precision PAR® sensor control and 0-10V Transmitter control
The Access Point must be powered on for all offline GrowFlux Mesh features
Does the Access Point use Bluetooth or WiFi?

The Access Point uses Bluetooth only for the initial device setup process with the GrowFlux App. After setup, the Bluetooth radio is turned off.

The Access Point does not support WiFi, and requires a hardwired Ethernet connection to ensure reliability.

Note that once setup, the Access Point connects to GrowFlux Apps on any device over the Internet rather than through a Bluetooth or WiFi connection.
Will the Access Point work with GrowFlux devices I purchased elsewhere?

Yes, the Access Point works with any GrowFlux Mesh device, including:

GrowFlux Mesh enabled devices from GrowFlux partners
GrowFlux sensors
Devices (such as lighting controllers) labeled 'Powered by GrowFlux'
How many Access Points do I need?

Typically only one Access Point is necessary for each site, since powered GrowFlux Mesh devices extend network coverage across large areas. For more than 200 devices, the Pro Access Point supports up to 500 devices.

For more than 500 devices, contact GrowFlux or install multiple Access Points as needed.
What is the wireless range?

The Access Point incorporates GrowFlux Mesh and is capable of reliable, long range communication. The Access Point typically communicates over 500 feet through walls in an indoor environment to most GrowFlux Mesh devices, and range can exceed 2500 feet with a direct line of sight between the Access Point and device.

Each powered GrowFlux Mesh device, such as the Universal Dimmer, Sensor Hub, or any GrowFlux lighting controller also functions as a GrowFlux Mesh repeater, extending the reach of your GrowFlux Mesh network.

GrowFlux Mesh utilizes sub-GHz frequencies rather than the commonly used 2.4GHz band, allowing GrowFlux Mesh devices to penetrate further and deeper into buildings and concrete structures.

GrowFlux Mesh performs uniquely in large scale indoor cultivation environments with metal walls and concrete floors. Learn more