Cloud Enabled

GrowFlux's cloud enabled control platform combines the convenience of a connected system and reliability of an on-premise system. Rapidly build and scale farms of the future with GrowFlux. Cloud operations and support are based in the United States

Wireless IoT for agriculture

Reliability you can bet the farm on. GrowFlux Mesh is an industrial wireless IoT protocol that provides unsurpassed range and performance in the agriculture industry, while overcoming many of the shortcomings of Bluetooth, WiFi, and other protocols.

GrowFlux Apps

Grow from anywhere and collaborate across multiple facilities. The GrowFlux app is available for any device; we also offer a browser based app and software API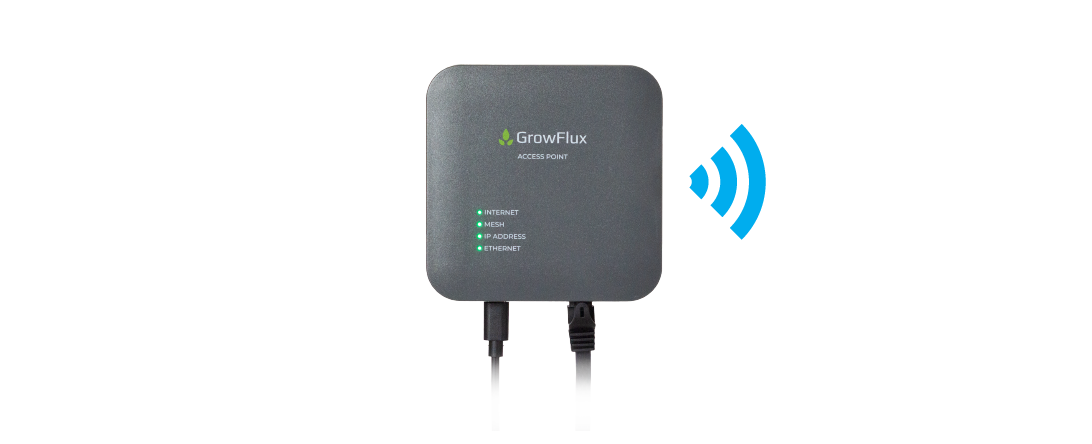 DEVICE MANAGEMENT
GrowFlux seamlessly manages device setup, settings, and schedules remotely, making farm management a breeze for any size farm. Devices are managed remotely but store all configurations and schedules locally, so your GrowFlux devices know what they should be doing at all times. All GrowFlux devices support remote software updates.
Learn More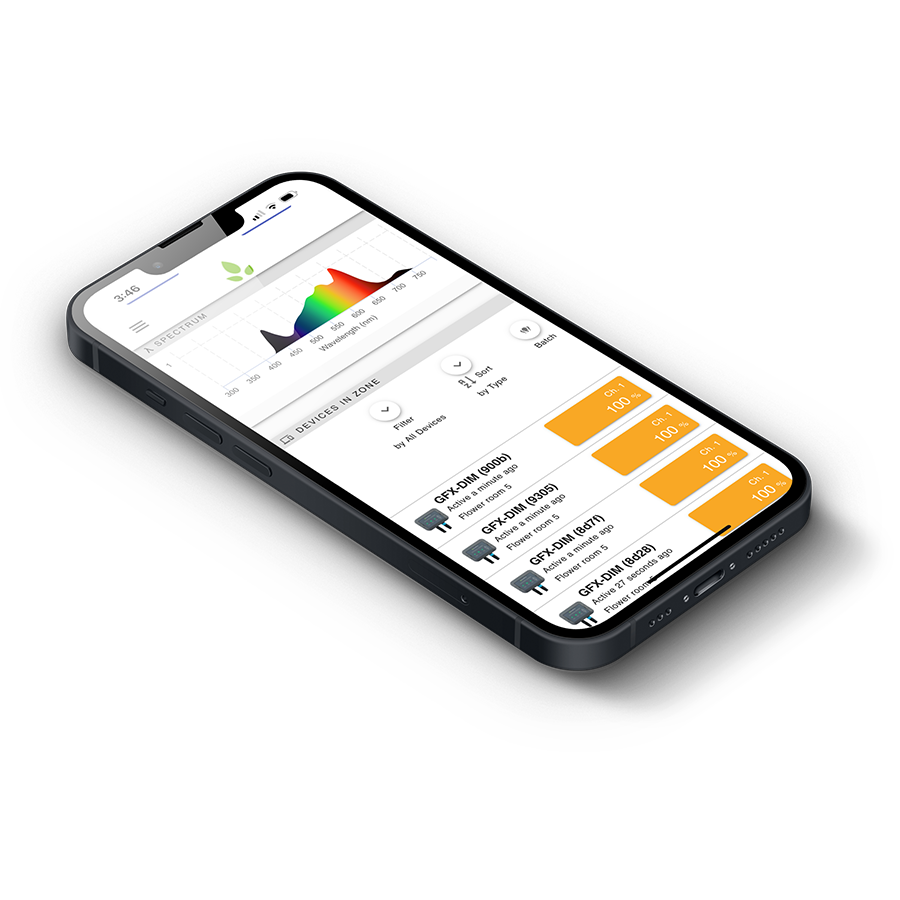 OPERATIONS CONTINUITY
GrowFlux's entire platform, including apps, cloud applications, Access Point, and devices are engineered to ensure operations continuity even through connectivity loss and power failures. Every layer of our platform has been engineered for the unique reliability requirements of the CEA industry.
Learn More

API CROSS PLATFORM COMPATIBILITY
GrowFlux products can be integrated with other control systems and dashboards with our software API. Build custom single pane of glass dashboards, or integrate your lighting network with your legacy automation system.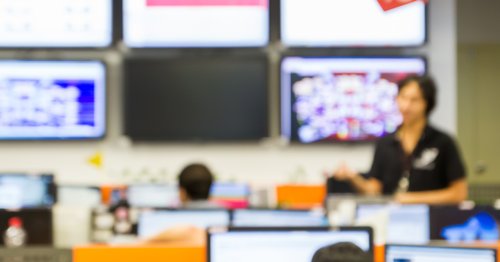 PREMIUM SUPPORT
Since GrowFlux devices are cloud-managed, we are able to offer end to end support without sending technicians to your facility. GrowFlux products are supported in the United States; premium and custom support plans are available
MULTI-FACILITY MANAGEMENT
See all of your Access Points from anywhere in the world in one app - with one login. Standardize your operating procedures (SOPs) across your organization to ensure consistency in your most critical crop inputs, and collaborate with your staff remotely.
DIGITAL ZONING
Powerful Zone Management within GrowFlux Cloud allows growers to easily manage and re-configure farms of any size. Devices added to a Zone can be batch edited, saving time and ensuring consistency.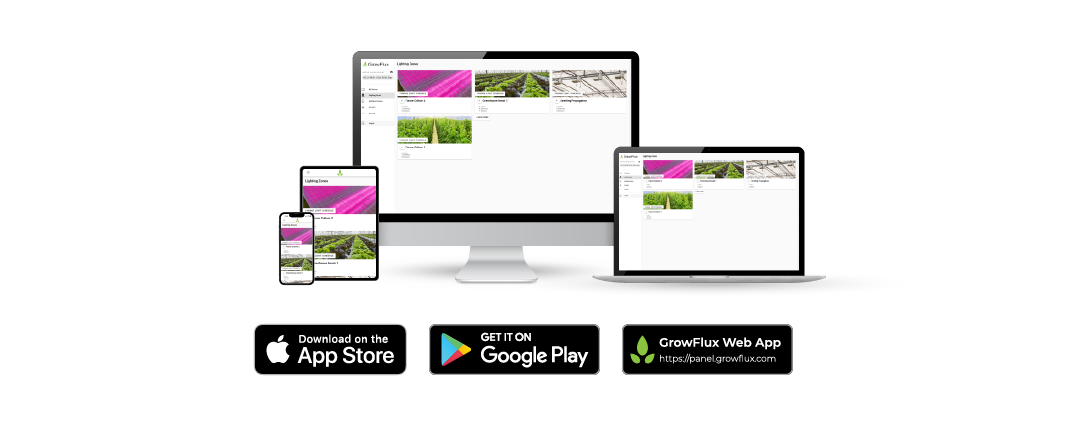 CONTROL FROM ANY DEVICE
With apps for iOS and Android as well as the GrowFlux browser based interface, you can manage and control your farm from any device.
SCALABLE

Mesh network up to 500 devices per Pro Access Point; add more Access Points as necessary. Smart range extension allows networks to grow as more devices are added

LONG RANGE

Reliably connect devices over 500 feet away. We use Sub-GHz frequencies for unsurpassed range and reliability. Transmit through walls, concrete, and challenging environments

ENCRYPTED

Secure and encrypted communications at all layers; wireless traffic is secured with AES128 encryption, and cloud communications are secured with TLS encryption

SMART MESHING

GrowFlux Mesh devices always find a way to get their message across, even when devices get moved or unplugged

EASY SET UP

Rapidly set up new devices with the GrowFlux App

ALWAYS ON TIME

Battery backed clock inside the Access Point ensures that your GrowFlux Mesh devices always run on schedule

SUB-GHZ WIRELESS FOR UNSURPASSED PERFORMANCE

GrowFlux Mesh uses sub 1-GHz frequencies to overcome many of the range and penetration shortcomings associated with the widely used 2.4GHz band. Wireless signals penetrate through walls and concrete floors with ease, and GrowFlux Mesh incorporates dynamic channel hopping to ensure that the wireless connectivity is always healthy.

SMART RANGE EXTENSION

Every GrowFlux Mesh device (except for battery powered devices), functions as a repeater, allowing GrowFlux Mesh to scale to the largest of farms. Scale your controls in the largest greenhouses in the world, or mesh network across multiple buildings at your facility.

PLUG & PLAY, ZERO CONFIGURATION SETUP

No need to figure out firewall settings or network permissions. The GrowFlux Access Point is engineered to work with any network out of the box. All Internet communications are secure outbound connections, so the Access Point rarely needs special network configuration to set up.

ENGINEERED FOR SCHEDULING IN HORTICULTURE

GrowFlux Mesh devices are designed to be resilient to power outages and loss of Internet connectivity. Scheduled devices like lighting control use a battery backed local network clock to ensure your lights operate on schedule no matter what happens. Learn More

Schedule a demo with us

We're happy to chat about your needs. Schedule some time with us or chat live with us

Choosing a selection results in a full page refresh.
Opens in a new window.